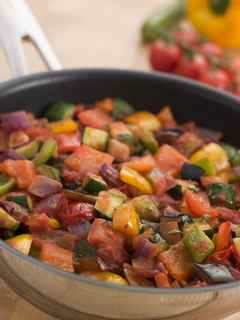 Traditional ratatouille recipes recommend cooking each vegetable separately, i.e., saute onions and then remove from the pan, add more olive oil and then cook the next vegetable. The following is a streamlined version of this classic French vegetable medley.
Ratatouille Express
1/4 cup olive oil
2 onions, slivered
3 bell peppers, cut into one inch squares(try different colors)
2 eggplants, cut into 1/2 inch cubes
2 zucchini, cut into 1/2 inch cubes
4 cloves garlic, minced or crushed
2 pounds tomatoes, chopped
1 tablespoon minced fresh thyme
salt and pepper
1/4 cup chopped fresh basil
Preparation Time:
25 minutes
Cooking time:
40 minutes
Heat olive oil in a heavy soup pot on medium heat. Sliver onions and add to oil.
While the onions cook, chop the bell peppers and add them to the pot, stirring well.
Chop the eggplants and add to the pot, stirring well to coat the eggplant with oil. At this point all the olive oil will have soaked into the eggplant, so you need to stir often to keep things from burning until they soften some.
Chop the zucchini and stir it in once the eggplant has softened a bit.
Chop the garlic and add to the vegetables, stirring well.
Chop the tomatoes and add them.
Mince the thyme and add it along with salt and pepper to taste. Stir well and cook two minutes.
Turn down heat and cover the pot. Simmer until everything is soft and well blended - about 40 minutes.
Stir in basil and remove from heat.
4 to 6 servings